"Sur l'histoire du piano – Diving into the history of the piano"
am 15.08.2021, 16:00
Preis: Price category D
Four different pianos for a sound journey through four centuries – a specialist in historical performance practice and student of Alain Planès and Menahem Pressler: Alain Roudier is once again a guest in Bayreuth and presents a sound journey in three concerts over three days.
The instruments: historical clavicord of 4 octaves,
historical table piano Pape, Paris,
Steingraeber 200 from 1892,
Steingraeber Sordino concert grand 2020.
Day 1: Antonio de Cabezón (Spain 16th century),
Claude Balbastre (18th century France),
Mozart (D minor Fantasy) and
Beethoven (Piano Sonata No. 15 op. 28, 1st and 2nd movement)
Day 2: Franz Schubert Sonata in B flat major, D. 960, his 21st and last sonata
Day 3: dedicated to Richard Wagner on the 135th anniversary of his death
Leoš Janáček, "In the Fog" (A piano work in four movements) and
Pieces by Franz Liszt
Alain Roudier himself owns a collection of about twenty historical pianos from 1780 onwards and gives many concerts on his old instruments all over Europe, he gives lectures and organises exhibitions. He cooperated with Paul Badura-Skoda and Jörg Demus and wrote several books about Erard and Pleyel as well as the big catalogue with CD Three Centuries of Pianos. Together with Virginie Tarrête (harp) he founded the Duo Sébastien Erard in 2008.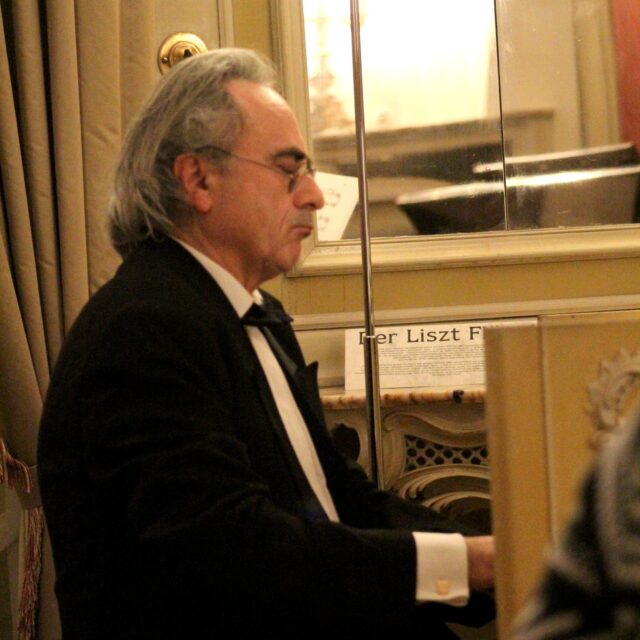 Veranstaltungsort
Kammermusiksaal
Steingraeberpassage 1
95444 Bayreuth