On the 200th death anniversary of E.T.A. Hoffmann – "A dog-faced, unworthily wasted evening"
am 25.06.2022, 19:30
Preis: 24 € / 5 € students
Franconian intrigue almost threw ETA Hoffmann off course in 1810 – after two years in Bamberg. That the brilliant jurist, gifted composer and writer and nimble draughtsman ended up as a decorative painter in the cathedral city . . . and perhaps this is why he took refuge in his fantasies about secret societies … at any rate, this connected him with Robert Schumann who later made ETA Hs Kreisler immortal in Kreisleriana – Hoffmann and Schumann: two closely connected artistic souls.
The wit and sharp observation of society, combined in a multi-talent, make the Prussian ETA Hoffmann an outstanding artistic figure of the 19th century who – of course ! – which brings us to the gifted reciter Hans-Jürgen Schatz, who once again does Bayreuth the honour.
Hans-Jürgen Schatz is first and foremost renowned as an actor, both in film ("Flamme empor") and in numerous theatre productions as well as television films ("Heimat", "Der Fahnder"). He gained an excellent reputation as a reciter with texts by Erich Kästner, Jean Paul and Thomas Mann. His interpretation of L.F. Baum's "Der Zauberer von Oos" (The Wizard of Oos) was awarded the "Preis der deutschen Schallplattenkritik" (German Record Critics' Prize), his recording of the musical story "Paddington Bärs erstes Konzert" (Paddington Bear's First Concert) (with Symphoniker Hamburg) was awarded the German Record Prize "ECHO Klassik". Hans-Jürgen Schatz was honoured with the Federal Cross of Merit on Ribbon for his multifaceted social commitment.
The young pianist Albert Lau was born in Hong Kong and performs internationally as a solo pianist as well as a chamber musician. He studied with Emile Naoumoff, at Indiana University, USA, at the Royal Academy of Music in London with Joanna MacGregor. He graduated with a Master of Music degree with distinction. His social commitment is reflected in the benefit concert he gave at the beginning of 2020 for the Cologne Society for Christian-Jewish Cooperation (Kölnische Gesellschaft für Christlich-Jüdische Zusammenarbeit e.V.), "Piano gegen Rechts" (Piano against the Right), to send a clear signal against racism, anti-Semitism and discrimination. This was reported nationwide and the Federal President Frank-Walter Steinmeier also thanked him for his commitment. In February 2020, WDR introduced him to the general public in an interview. He has lived in Cologne since the end of 2016.
E.T.A HOFFMANN Thoughts on the High Value of Music / The Enemy of Music / Johannes Kreisler's, the Kapellmeister's, Musical Sufferings / Piano Sonata in A Major
ROBERT SCHUMANN 5 Fantasy Pieces from op. 12 / Children's Scenes op. 15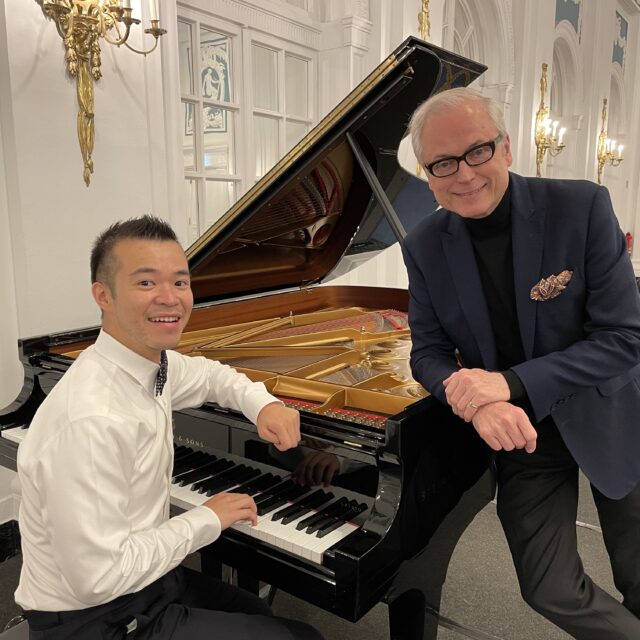 Veranstaltungsort
Kammermusiksaal
Steingraeberpassage 1
95444 Bayreuth