Sonata for Violin and Piano by Niels Wilhelm Gaade
am 11.11.2021, 19:30
Preis: 18€ AK / 14€ VVK / 5€ Studenten
Maria-Elisabeth Lott, violin, inspires on stage with her joy of playing, her natural and intense musicality and her flawless technique.
Since her U.S. debut at the age of thirteen, she has performed worldwide as a soloist with orchestras such as the London Philharmonic Orchestra, Dallas Symphony Orchestra, Residentie Orkest Den Haag, Singapore Symphony Orchestra, China National Orchestra, BBC Manchester Symphony Orchestra, and has worked with conductors such as Fabio Luisi, Jaap van Zweden, Mario Venzago, John Nelson, Kirill Petrenko, Jonathan Nott, and Daniel Harding. She is a regular guest at the most important international chamber music festivals, where she performs with artists such as Emanuel Borok, Sontraud Speidel, Elina Vähälä, Dmitry Sitkovetsky, Julien Quentin, Reinhold Friedrich and Bobby McFerrin, among others. Maria-Elisabeth Lott received her musical education at the Hochschule für Musik Karlsruhe with Prof. Josef Rissin. She has been awarded numerous national and international prizes. After completing her bachelor's and master's studies, she passed her soloist exam with distinction in 2015. Since April 2017 she has been teaching as a professor at the Detmold University of Music.
Sontraud Speidel, piano, performs worldwide as a soloist and as a chamber musician. Recordings for radio and CDs, television appearances and master classes have taken her through many countries in Europe, the USA, Canada, Israel, Russia, Japan, Korea, Taiwan and Brazil. She is also in great demand as a jury member at national and international piano competitions. She has recorded about 40 CDs, some of which have won awards. She studied with Irene Slavin and Yvonne Loriod-Messiaen in Karlsruhe, Branka Musulin in Frankfurt, Stefan Askenase in Brussels and Géza Anda in Lucerne. She won national and international competitions already at an early age.
In 2000, she was awarded the "Silver Decoration of Honor for Services to the State of Vienna" by the Viennese government "in recognition of her special achievements". In 2003, she was awarded the Golden Josef-Dichler Medal at the Vienna City Hall. In 2005, Sontraud Speidel was awarded the Federal Cross of Merit of the Federal Republic of Germany. She is a professor of piano at Hochschule für Musik Karlsruhe; many of her former students are concertizing pianists. She leads various associations and competitions created by her for the promotion of young musicians. On the occasion of the 200th birthday of the Danish composer Nils Wilhelm Gade, Maria-Elisabeth Lott (violin) and Sontraud Speidel (piano) played a complete performance of the three sonatas for violin and piano at SWF as part of the series "The Night of the Profs".
Sonata No. 1 op. 6 in A major
composed and dedicated to Dr. Clara Schumann née Wieck
Sonata No. 2 op. 21 in D minor
composed and dedicated to Robert Schumann
Sonata No. 3 op. 59 B flat major
composed and dedicated to Mrs. Wilma Normann-Neruda
Photo piano duo Speidel/Lott: Kirsten Bohlig Kiraura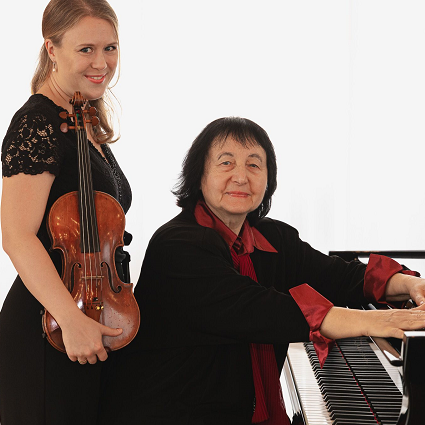 Veranstaltungsort
Kammermusiksaal
Steingraeberpassage 1
95444 Bayreuth