New Premiere Date | "Flieg, Holländer, flieg!" by Uwe Hoppe adapted from Richard Wagner
am 23.07.2022 bis 20.08.2022, 20:00
Preis: keine Angaben
Premiere on 23 July 2022, 8 pm
*** The premiere tickets remain valid for 23 July 2022. The tickets will be changed to the new date at the theatre box office ***
Revival of the successful play from 2021!
Director/stage: Uwe Hoppe
Costumes: Heike Betz
Lighting design/sound: Ronald Kropf
Performing:
Frank Joseph Maisel, Lukas Stühle, Conny Trapper, Alexander Vanheiden, Annette Zeus
"Oh to be able to fly! Far, far away! Ah, to be able to flee from this narrowness, from this crowd."
Parallel to the "Holländer" new production at the Grüner Hügel, the Studiobühne Bayreuth also presents a new view of the young Wagner's work in the "little barn", the STEINGRAEBER HOFTHEATER. The team around author and director Uwe Hoppe dives parodically into the deep psychological abysses of the then still impetuous poet-composer. The unspoken is thrown out bluntly, the absurd is exaggerated into scurrility and romanticism is pushed to the edge of kitsch. A young woman between two men, faced with the choice of being stranded in middle-class life or plunging into the uncertainty of an artist's life to the death. Weird, funny, crude and deeply poetic, a game of life and death, between despair, crying and laughing to the point of stomach ache.
Duration 60 minutes. No intermission.
Further dates: 02nd, 04th, 06th, 12th, 14th, 17th, 19th and 20th August at 8 pm each.
Tickets only at the Studiobühne and the theatre box office: 0921-69001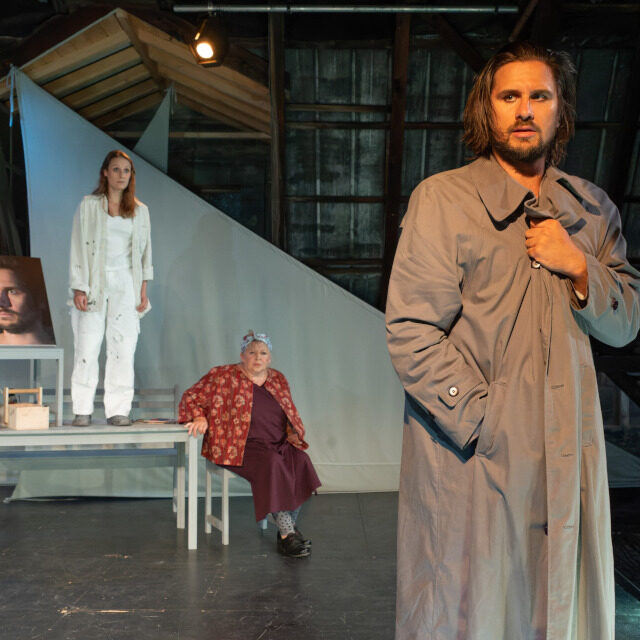 Veranstaltungsort
Steingraeber Hoftheater
Friedrichstraße 2
95444 Bayreuth