The Concert Grand Piano E is based on its predecessor, the 1895 model. Many pianists praise it as being one of the most distinctive and outstanding instruments on the market today.
Unique features include its sound-reflecting inner casing, star-shaped/half-timbered braces, and the "unbelievably enjoyable" action (Cyprien Katsaris, pianist). Steingraeber is the only manufacturer to have reduced the surface of the treble soundboard and to have restored its 'classical relationship' to short treble strings. Thus, Steingraeber strings have 27% less wood weight to set in motion. Even when softer intonation is called for, the player is rewarded with an immediate, singing resonance.
At the latest test of eleven concert grand pianos from all of the top manufacturers, Le Monde de la Musique (Paris) wrote that "… these days it would be hard to find a better instrument for interpreting Bach, Mozart and Beethoven." Added to that, when needed, is its percussive 'register', perfect for twentieth and twenty-first century music applications. This register distinguishes the Concert Grand E from other excellent grand pianos, which are built largely with late nineteenth-century repertoire in mind.
From the Berlin Philharmonie right through to the National Theatre in Quito, Ecuador, the Concert Grand Piano E can be heard time and again in major concert halls around the world.
Specifications of Concert Grand Piano E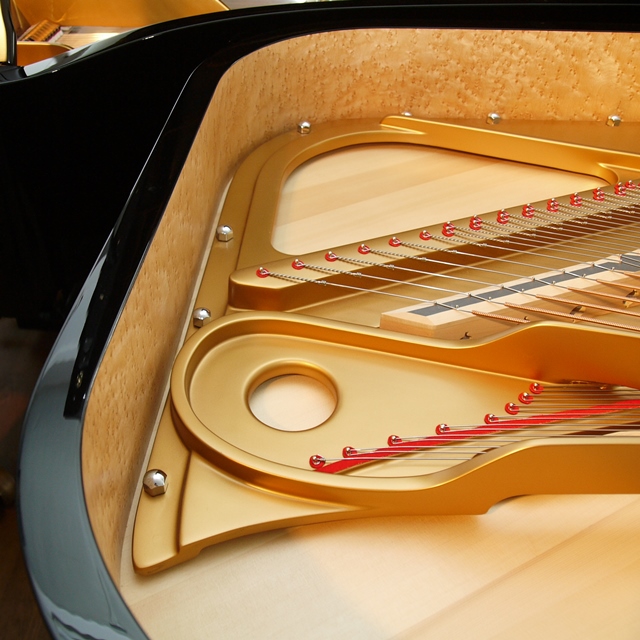 sound-reflecting casing wall, straight form in the rear
particularly sonorous discant resulting from:

precise high-frequency dimension of the treble-range soundboard
treble backstrings constructed using 'Mischklang' (unified sound) principle
sound bridges on the capo d'astro bars
induction-hardened capo d'astro bars
2 frame flanges in the treble region for extra tension

hardened bridge pins in nickeled iron
agrafes hardened by steel pins
perfect touch

5-section weighting of the keyboard: 52–48g (sharp notes 1g lighter)
fast-responding keys (20% more up-weight)
reliable key tops (to avoid 'aquaplaning')

frame design without front cross struts (for New Music 'extended techniques')
responding touch by aluminium action rails with wooden fillings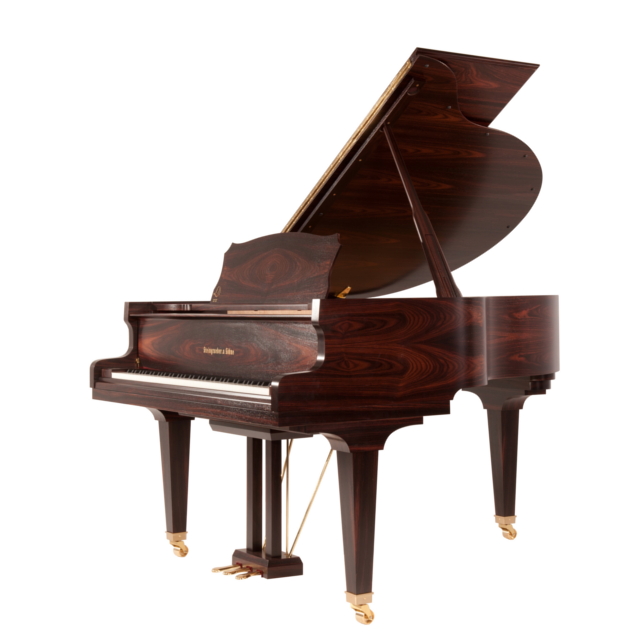 Wood Types
Choose out of more than one hundred wooden veneers – polished, satin or oiled – or combine it with black or white polished elements. Living with your instrument should bring you joy!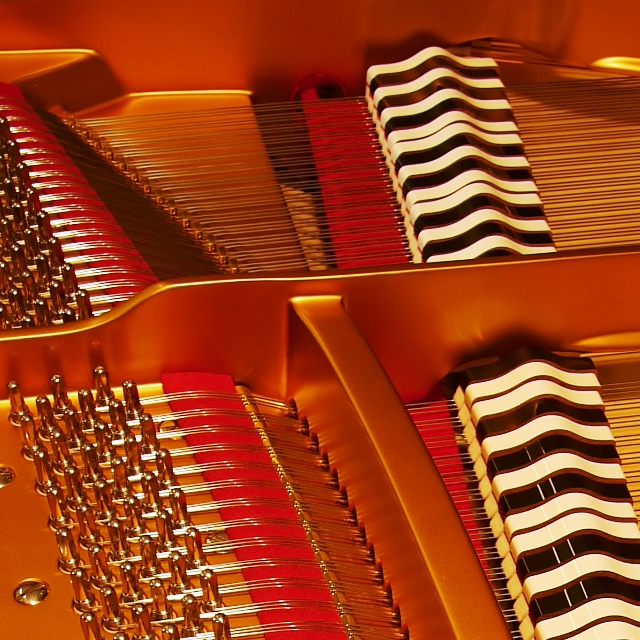 Optional Extras
Sordino and Mozart Rail for a historic touch, self-playing-systems, black-and-white dampers for contemporary music, carbon fibre soundboards… Freedom to choose your own!