Sonatas for violin and piano by Niels Wilhelm Gade – complete performance!
am 10.11.2022, 19:30
Preis: 20 € (students 5 €)
Maria-Elisabeth Lott, violin and Sontraud Speidel, piano
"This is a splendid fellow and musician" – this is how Robert Schumann described the youthful Dane. On the occasion of the 200th birthday of Nils Wilhelm Gade (1817-1890), Maria-Elisabeth Lott (violin) and Sontraud Speidel (piano) played a complete performance of the three sonatas for violin and piano at the SWF as part of the series "The Night of the Profs" – now there will be a repeat performance in Bayreuth of this complete work, which is unjustly rarely performed:
From three different creative periods of Gade: an early work is the first Sonata in A major, op. 6 (dedicated to Clara Schumann) – the second Sonata in D minor, op. 21, (dedicated to Robert Schumann) was composed in 1850 – the third Sonata in B flat major, op. 59, (dedicated to Wilma Normann-Neruda) belongs to the circle of his late compositions. Among Gade's last works is the collection Volkstänze im nordischen Charakter, op. 62, written in 1886 for the great violinist Joseph Joachim.
Sonata No. 1 op. 6 in A major – composed and dedicated to Dr. Clara Schumann née Wieck (early work)
Sonata No. 2 op. 21 in D minor – composed and dedicated to Robert Schumann (1850)
Sonata No. 3 op. 59 in B flat major – composed and dedicated to Mrs. Wilma Normann-Neruda (late work)
Maria-Elisabeth Lott, violin, is a regular guest at the most important international chamber music festivals and since April 2017 professor at the Hochschule für Musik Detmold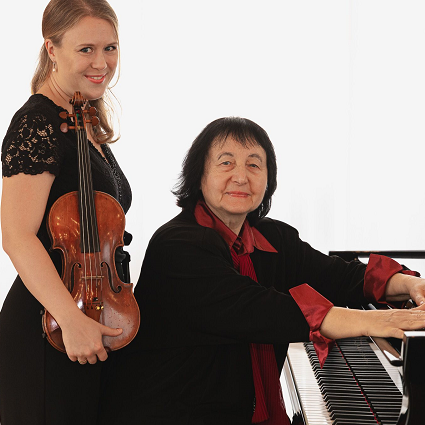 Veranstaltungsort
Kammermusiksaal
Steingraeberpassage 1
95444 Bayreuth